Please find below our newsletters. We hope you find them informative and enjoyable to read. If anyone has any articles, dates of events or any other relevant information that they would like to be published in future newsletters (due quarterly), please can you e-mail the information to: essex.mindandspirit@yahoo.com Thank you kindly for your support…
Click Here to Download PDF
April 2012
est Cluster Group Event Reaching Waltham Abbey!
The Waltham Abbey Health Centre was the venue, on 8th March, for the most recent networking Lunch organised by the West Essex Mind & Spirit Cluster group. Following a very good buffet, organised by the group and sponsored by a local business man, a presentation of the REACH programme was given by Daljeet Kaur. Daljeet is an Occupational therapist employed by North Essex Partnership Foundation Trust). Daljeet gave an illustrated talk of how the programme has been piloted locally with good effect. The REACH programme aims to incorporate spirituality as part of holistic care. The name REACH stands for "Reflection, Empowerment, Acceptance, Choice & Hope" and seeks to provide just that! As well as presenting the effectiveness of the programme Daljeet also spoke about the need for volunteers to assist in being able to continue & expand the provision of the programme locally…
JULY 2012
To mark National Mental Health Awareness Week, Essex County Council arranged a Mental Health and Wellbeing Awareness day at Basildon library on 21st May. The day consisted of representatives from health and other services that are involved in mental health and wellbeing. The event ran like a trade fair with many different stalls/tables offering information and advice to customers. Amongst the many stall holders were Essex, Mind and Spirit; Vitality, RETHINK and Women Together.
"On Thursday 26th July David Lazarus, Facilitator of Bipolar Chelmsford, gave a presentation to about 20 members on Bipolar & Spirituality based on his own monastic formation. He shared important advice to those with bipolar experiences concerning the management of their intrusive and rapid thoughts and the stillness and peace that can be obtained by the practice of watchfulness and the guarding of the heart…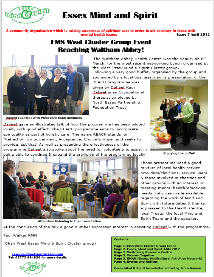 Click Here to Download PDF