Please find below our newsletters. We hope you find them informative and enjoyable to read. If anyone has any articles, dates of events or any other relevant information that they would like to be published in future newsletters (due quarterly), please can you e-mail the information to: essex.mindandspirit@yahoo.com Thank you kindly for your support…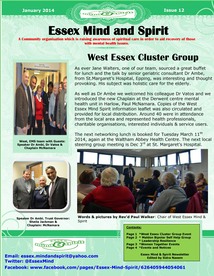 Click Here to Download PDF
January 2013
EMS West-Essex cluster group event - Spirituality in mental health therapy and recovery
The Waltham Abbey Health Centre was the venue, on Thursday 8th. November 2012, for the most recent Autumn Event networking Lunch organised by the West Essex Mind and Spirit Cluster group. Psychiatrist Dr Simon Dein gave a talk on 'Spirituality in mental health therapy and recovery' which was insightful, illuminating and very well structured and much positive feedback was received from attendees. A great buffet was also shared by all!
Our Spring Event Networking Lunch is on -
Thursday 7th March 2013. 12.30-2.00pm A talk by Alex Dalziel from Family Care Counselling Service is planned…
October 2013
Pictured here is an Essex Mind and Spirit (EMS) stall which formed part of a World Mental Health Day exhibition in Central Park on Thursday 10th October, organised by the North Essex Partnership Foundation Trust (NEPFT). There were many mental health charities and organisations represented, and lots of people came to look at what was on offer in the marquee which had been erected especially for the occasion.
The EMS stall did brisk business, handing out lots of leaflets, flyers, conference reports, newsletters and pens, and its Chairman The Rev'd Canon Ivor Moody had many useful and meaningful conversations with individuals, some of them service users, who wanted to know more about our work to promote the positive relationships between faith, spirituality and mental health…
Click Here to Download PDF